Today our colleagues at Ars Electronica announced the winners of the EU prize for citsci, for the first time in the history of European citizen science! We cannot express the excitement of our team to be part of this occasion. 315 projects applied, from all over Europe! These are the outstanding citizen science projects awarded, that promote collaborative, sustainable and fair shaping of the future:
Grand Prize: € 60.000
Isala: Citizen-science map of the vaginal microbiome
Our Jury statement: "This project successfully addresses social stigma and medical bias concerning intimacy, self-care and taboos related to the female body. […] Isala is an outstanding example of a well-implemented citizen-science project."

Learn more about ISALA: https://isala.be/en/
Diversity & Collaboration Award: € 20.000
Urban Belonging Project
One city, many perspectives: The Urban Belonging Project explores Copenhagen's urban life – more specifically, the urban experience of underrepresented groups. People from the LGBT* community, homeless people, internationals, ethnic minorities, people with physical disabilities, deaf people and people with mental illness were asked to document and visualize their experiences ("Experiences of Belonging") in the Danish capital.
Learn more about Urban Belonging: https://urbanbelonging.com/en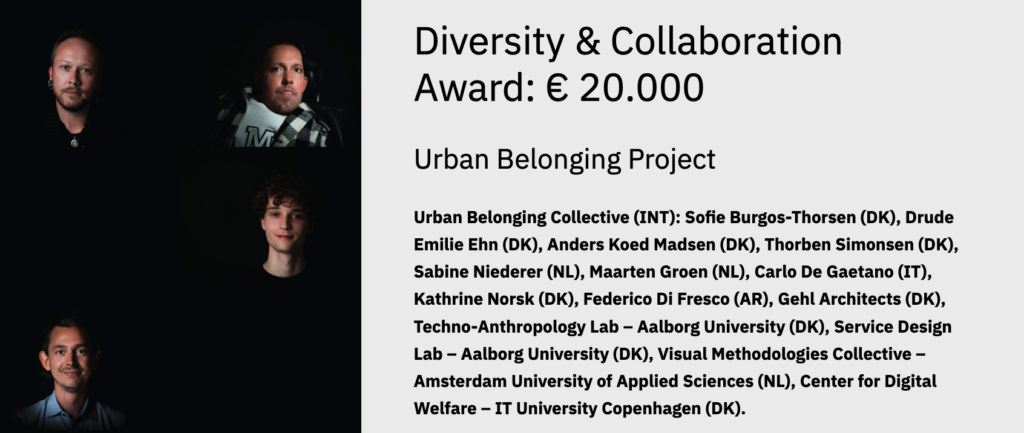 Digital Communities Award: € 20.000
The Restart Project: The Right to Repair and Reuse your electronics
The Restart Project is a London-based initiative that criticizes the environmentally harmful orientation of contemporary consumer society – and offers practical solutions. Specifically, it is concerned with the vast amount of e-waste in Europe; electronic products that are hastily disposed of because of the smallest defects, even though they could sometimes be repaired easily and quickly.
Learn more about Restart: https://therestartproject.org/

Honorary mentions
Please, visit Ars Electronica website to know the 27 projects awarded an Honorary Mention: https://ars.electronica.art/citizenscience/en/winners/